Album Review- Papoose- Nacirema Dream
Papoose is one of the more perplexing figures in hip-hop because he has been around for the better part of a decade as one of the "up and coming" rappers from New York. Before Juelz Santana and Lloyd Banks there was Papoose and the only guy who has had a more difficult time bringing an album out was Saigon. That tells you a lot about Pap but not the entire story, between the label troubles and marriage to jailed female rapper Remy Ma, he has tried to maintain an existence, dropping prison influenced rhymes and yes, finally his album, the Nacirema Dream is here for a review.
The album starts with some explanation, if you haven't gotten it, Nacirema is American backwards (amazingly since this was supposed to be out for years that he stuck with this idea). The album starts with "Motion Picture" which is an excuse to spit some general NY crime rap that is loosely held together with a story. This is generally what you can expect from Papoose as he tries to mix that professional Jay-z style with an extreme realness and street savvy. "Mother Ghetto" is a good title about being raised in the hood and a description of events that is sort of interspersed with vignettes or flashbacks to describe it. Lloyd Banks' vocals are sampled for "Aim Shoot" which features Mobb Deep but some of Papoose's bars in his verse are very weak and it's unfortunate. Mobb Deep is aight though.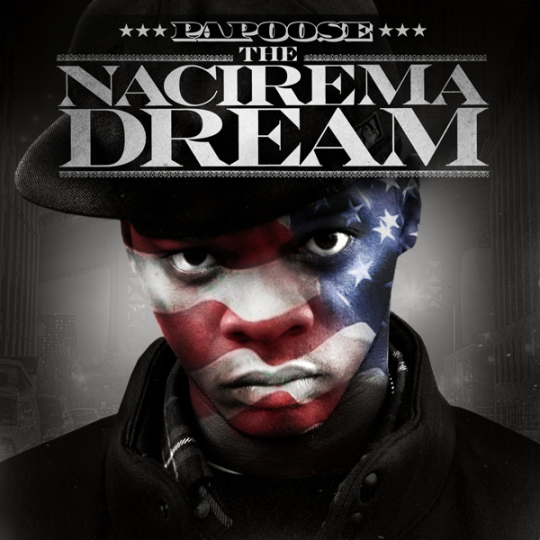 Papoose tries to show he isn't just a dumb average rapper with songs like "Pimpin' Won't Die" where he tries to tie in the ghetto struggles to the characters in songs by 2pac (Brenda's Got a Baby) and Slick Rick (A Children's Story). It works better with the first verse but the hook is old and it could have been better without the crutch of tying it in to old memories from those songs. "6am" features Jadakiss and Jim Jones for some reason and it's cool but nothing spectacular. "Cure" which Erykah Badu is featured on and tweeted upset messages about the old vocals (come on E, the album is old) is another attempt to drop knowledge as Pap implores people to go to the doctor and get tested to check for Cancer and HIV. He also continues his Law Library series with "Law Library 8" which seems to be pointless if he is just reciting whats in the law books because he isn't adding anything or making it more easily accessible. "What's My Name" with his wife Remy Ma has to be old and pretty much should have been left in the past along with this old ass"For the Love of Money" O'jay's sample.
"On Top of My Game" features Mavado and it's alright as is "Faith" which is a general rap song but he has some better lyrics than the song with Mobb Deep on it. "Die Like a G" is a kind of 'keeping it real' song, espousing guys who claim to be thugs to be that. Ron Browz sucks as usual on "Get at Me". "Where i come From" is the classic Posse track featuring a bunch of dudes who should just be relegated to weed carrying duties. He concludes the album with "R.I.P." and reprises his underground concept "Alphabetical Slaughter" this time going in reverse from Z to A.
Papoose is an emcee whose time has probably passed. At one point he could have been a mid-level rapper but now he won't rise above the underground. He has a slightly dated style and while he has lyrical ability, he is very unfocused, spending too much time on giving us the description of his borough, Brooklyn, which we have had many times. Times when he can really dig in, he fails to really give the sharpest of bars and he isn't quite descriptive enough when he attempts to be visual. But then again, there is potential to dig deeper with songs like "Cure" and "Alphabetical Slaughter" showing the best of what he can do when using a concept and not just randomly spitting out bars.
Rating: 2.5/5