My Top 20 Favortie Rap Albums - Part 2
10. Camp- Childish Gambino
Now this is the most out of place album for some people, especially those who don't know of Childish. I heard Derrick Glover's mix tape last year at the behest of someone else and liked it but I wasn't prepared for how ill this album is to me. I haven't gone a week without listening to this album twice from beginning to end since I got it. I relate to it in several ways and see how it reflects more accurately the lives of the people I associate with more than many other artists out there. The production was tight and the insecurity and sincerity in this album are all real. This album has impacted me more than anything else in years musically and I heap high praise on it personally.
9. Capitol Punishment- Big Pun
Pun's debut was full of hard beats, hard lyrics, and enough appeal to spawn "I'm Not A Player" with Joe which got played so much I thought I was going to throw up. That song got Drake spins before Drake was acting ok. Pun was huge and was well on his way to breaking through the ceiling with his personality and hot lyrics. He was a game changer for real.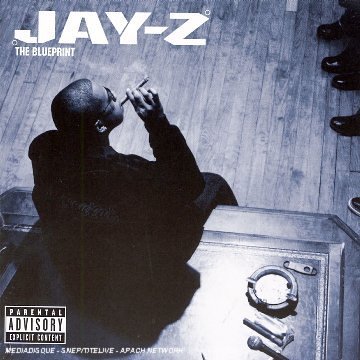 8. Blueprint - Jay-z
This is a consensus top 10, probably top 5 for most and might get into the argument for best rap album of all time if people were to assign a point value. This one might average out as the best. Jay put his all into this album with singles, lyrics, and a reach that was acceptable to everyone who heard it. This album came out right after September 11th and the soul samples reflect the whole mentality of the time."Heart of the City", "Hola Hovito" and of course "Song Cry", made this Jay's most personal album.
7. Get Rich or Die Trying - 50 Cent
The pinnacle of 50's street campaign was in this Shady Records debut. From beginning to end this album was all aggression and energy, much of which had sort of been missing from the game in the time when Ja Rule's harmonies ruled the radio. 50 came through and switched up the direction of the game and elevated Eminem's stock even higher just for signing the guy. He was unapologetic and had nothing to lose. Everyone was bumping this album.
6. Me Against the World- Pac
This album was the best of what Pac had to offer, he was ready with his message and wasn't so filled with anger he turned people off. He disarmed you with songs like "Dear mama" then hit you with "Death Around the Corner" and "So Many Tears". This also was an album my parents bought me allowing me to hear parental advisory lyrics for the first time after I explained to them why I felt i was responsible enough to listen to them, yeah I'm a nerd but I will always look at this as one of my favorites.
5. Aquemini - Outkast
While ATLiens was a short jump from Southernplayalistic for the Atlanta duo, Aquemini really expanded their sound and reach. From the high energy "Rosa Parks" to the slowed down "Aquemini" and futuristic sounding "Synthesizer", outkast took their style to an entirely new level. The lyrics were present from Big Boi and Andre 3000 was beginning his evolution into one of the greater all around hip-hop talents. It's hard to describe because it's just so damn good.
4. Marshall Mathers LP - Eminem
This album was Em's coming out as he was able to better adapt to the production of Dr. Dre and also had more to discuss. While his first album was more random, this one was all about dealing with fame and the changes that come with it, along with some of the previous dysfunction that the blue eyed mc already had. He dealt with the fall out of his crazy antics and took them even farther. Even the skits dealt with the fact his album wasn't the easiest to sell because it dealt with a lot of unsavory topics that people weren't trying to admit hearing. This was Marshall putting everything together for the first time.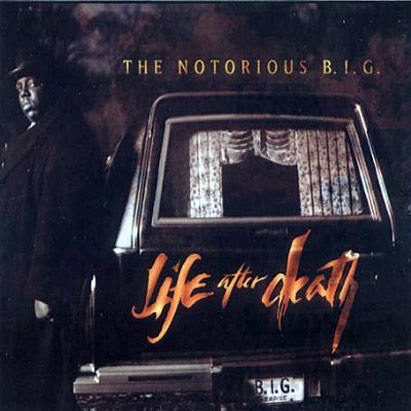 3. Life After Death - Biggie
This Double LP was what was left of too short an end to a career. While Ready to Die was all about Big's life, this album played more like a movie which seemed like the intent. Along with dealing with the loss, this album also had some good material, "You're Nobody til somebody kills you" might be just as prescient as anything Pac ever created, while "What's Beef" painted the musical feud in a lesser light because it really wasn't that serious. BIG was great at telling stories and weaving in some disturbing lyrics so effortlessly you don't even realize what's going on until later and you just say 'damn'.
2. Ready to Die- Biggie
This was good because while Big was just relating the hustlers tale, he gave it reason and justification on his first single, "Juicy" before the verses even started. On the album, the progression from his beginning to the end where during "Suicidal Thoughts" he questions the legitimacy of everything that he's done and wonders if the world would be better without him attack questions that rappers today won't touch with a ten foot
pole.
1. The Black Album - Jay-z
Okay, this album grew on me as a result of watching Jay's career from it's beginnings. The song order was a bit messed up because "What More Can I Say" should have ended the album but the one song is so accurate. This album sums up a career best and is like the ending of the old testament of Jay's career. After this his albums have been on and off but this was a great way to cap things off. "PSA" is one of my favorite songs ever. "Encore", "Lucifer", just everything was on point from production to lyrics. Jay was ready to put in his all and hang it up, everything after this is just for fun, a little extra just because but this was the finale and just worked so well. I was so excited to get this I stopped at Metro II in Mondawmin to get this one on my way to school since it was still there. Best Buy had it for 10 but I couldn't wait until they opened, I had to have it right then.