Blueprint 3 vs The Carter 3
Here is the latest blog from my West Coast homie NC-17:
I've heard it all, The Blueprint III is grown folk rap, a lyrical opus, Jay-Z changing the game… bullshit. The Blueprint III is a lazy effort full of Old Man Logan, cough cough, excuse me Shawn, still talking about not wearing Throwbacks and Cristal being racist. Last time I checked it was 09, and neither of those topics are relevant.
Yeah he took aim at Autotune, but it seems like a ploy to get attention, the rest of the album never truly goes deeper into that subject or ringtone rap. More importantly, if this is the BLUEPRINT for Hip Hop, show us what needs to be done Jay Hova. The first Blue Print made soul samples a way of life; this one doesn't have any style or substance that could be used as a blueprint for new artist to work with. When Hova tries to go all Back To The Future with Drake on "Off that", the result is one of the worst songs ever recorded. Now to the average reader this could seem like hate, but it's honesty. The best song on the album is "Empire State" a song so powerful I replay it at least three times in a row every time. And "Venus Vs. Mars" is a witty take on the boy meets girl songs, but cuts like "Reminder" and "Young Forever" are just painful to sit through.
Anyway. I listened to Carter III and then Listened to Blueprint III and went TRACK FOR TRACK to see if Lil Wayne has replaced Jay-Z as the King of Hip-Hop. Here are the Results: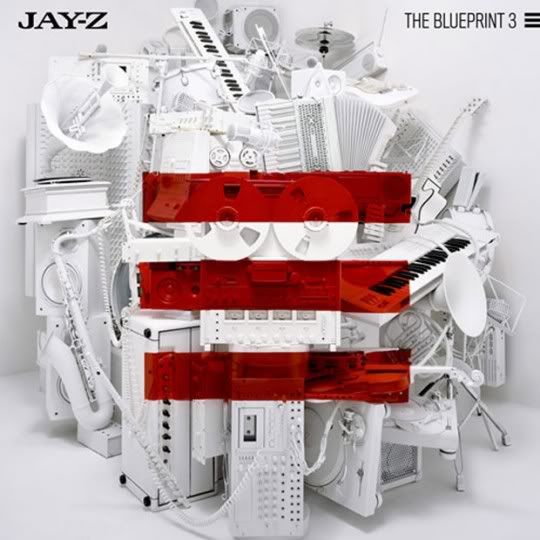 THE BLUEPRINT III
1 "What We Talkin' About"
2 "Thank You"
3 "D.O.A. (Death of Auto-Tune)"
4 "Run This Town" (featuring Rihanna & Kanye)
5 "Empire State of Mind" (featuring Alicia Keys)
6 "Real as It Gets" (featuring Young Jeezy)
7 "On to the Next One" (featuring Swizz Beatz)
8 "Off That" (featuring Drake)
9 "A Star Is Born" (featuring J. Cole)
10 "Venus vs. Mars" (featuring Beyoncé)
11 "Already Home" (featuring Kid Cudi)
12 "Hate" (featuring Kanye West)
13 "Reminder"
14 "So Ambitious" (featuring Pharrell)
15 "Young Forever" (featuring Mr Hudson)
THE CARTER III
1. "3 Peat"
2. "Mr. Carter" (feat. Jay-Z)
3. "A Milli"
4. "Got Money" (feat. T-Pain)
5. "Comfortable" (feat. Babyface)
6. "Dr. Carter"
7. "Phone Home"
8. "Tie My Hands" (feat. Robin Thicke)
9. "Mrs. Officer" (feat. Bobby Valentino, Kidd Kidd) 10. "Let the Beat Build"
11. "Shoot Me Down" (feat. D. Smith)
12. "Lollipop" (feat. Static Major)
13. "La La" (feat. Brisco, Busta Rhymes)
14. "Playing With Fire" (feat. Betty Wright)
15. "You Ain't Got Nuthin" (feat. Fabolous, Juelz)
16. "DontGetIt"
TRACK 1-"What We Talkin About" is a decent intro, but it feels a tad bit like the same old song and dance he gave on the intro to Kingdom Come, i.e. Real life vs rap life, record sales over swagger, etc… It's not one of those intros you play over and over again like the epic Volume Three "The theme song to the Sopranos plays in the key of life on my pianos". Now that was an intro. "3 Peat" on the other hand is just a dumb out go hard track that finds Wayne at his peak in terms of flow, even if it's not as lyrical as "A milli", it does a match better job of setting the tempo for the rest of the album.
TRACK 2-"Thank You" is a like a sequel to Encore, and I enjoy the laid-back vibe and Dynasty throwback flow. Wayne's "Mr. Carter" is Jay-Z at his finest, and I would agree with anyone who says Jay had a better verse than Weezy. The beat from Swizz is bonkers, and as a song it's as classic as "Brooklyn's Finest".
TRACK 3 & 4-It's no mistake that "DOA" and "Run This Town" fall exactly where "A Milli" and "Got Money" are. It's called A&R track listing 101. "DOA" is a good statement song and the third verse is incredible, but "A Milli" changed the game in terms of swagger on record and is Wayne's Anthem much like "Get At Me Dog" was X's calling card. "Run This Town" is an average track heightened by Rihanna, but the song belongs to Kanye who totally annihilates Jay-Z. Jay brought a gun to a fight with Magneto, and the results are pretty obvious. "Got Money" is as popcorn as it comes, while not a huge fan of either song, I give it to Wayne because everyone in club loves singing "clap your hands if you got a bank roll".
TRACK 5-"Empire State of Mind" is one of the greatest songs ever made, and no song on Carter III can touch it musically, sorry Babyface.
TRACK 6-"As Real as it Gets"… I want to like this song but it fails terribly. Jeezy and Jay-Z should have made a classic, a call to arms for the D-boys past and present, but this songs comes off as a bland by the numbers collaboration between to icons who didn't seem inspired to test themselves creatively. On the other hand "Dr. Carter" is Wayne's homage to the concept song, and while his effort isn't Nas-like by any means, it's a decent song and great idea.
TRACK 7-This is the closest Battle. "On To The Next One" is my favorite track lyrically off the album, and Swizz manages to get the subdued Hova to come out of his Rocking Chair and once again rock the mic. Wayne's "Phone Home" is a classic track that pushes the boundaries of rap music. It's more Andre 3000 than anything on the album and the ultimate Car song.
WINNER: CARTER III slightly.
Track 8 on both of these albums SUCK ASS. How could Jay-Z underutilize Drake in this fashion? The hook is beyond lame and the beat is incredibly corny. "Tie My Hands" isn't much better, but at least you can listen to it without wanting to stick a pen in your ears.
TRACK 9- I wanted to like J Cole after all the hype but he comes off sounding more Lupe Fiasco Lite than the second coming of Memphis Bleek. I enjoy Hova going through memory lane (yes a Ma$e reference) but "Mrs. Officer" is a hit song… "A Star Is Born" is not.
TRACK 10 &11-"Let the Beat Build" and "Shoot Me Down" are the weakest spots of Carter III, the beat never builds and nor do the lyrics. "Venus Vs. Mars" and "Already Home" aren't the best of songs in the Roc Nation Catalogue, but I give it to hov, "I'm a mac, she a pc she lives in my lap". Daddy Went Hard (nohomo).
TRCK 12 & 13 -"Lollipop" and "La La" destroy "Hate" and "Reminder", which are total ass tracks. Just when I thought "Off That" was the worst Jay song ever made, "Reminder" comes to take its place.
TRACK 14- anyone who knows me personally know I'm a big fan of Rock (pre 2002) and "Playing With Fire" is full of Metallica esque rage from which Wayne does a great job of doing his best-spoken word impression. The Jay-Z and Pharell Track "So Ambitious" is anything but. Another played and sappy Neptunes Pop beat with Jay-Z going through the motions.
TRACK 15 &16-"Young Forever" is horrid, it's some faux Coldplay bullshit that no one in their right mind would listen to. Let's say you add "Jocking Jay-Z" to the track listing just to make it an even 16 tracks, and it still couldn't compare to Carter III's "You ain't Got Nuthin'" which is features Juelz and Fab at their best and Wayne going nuts after watching a bit too many capital one commercials. The last song "Dontgetit" shows more heart than any song off of Blueprint III and cements Wayne as more than just a rapper, he moves into MC status on this one.
WINNER CARTER: III

FINAL SCORE:
BLUEPRINT III – 3 Tracks
CARTER III – 13 Tracks.
Winner by TKO Lil Wayne's The Carter III
If I want the old Jay guess I should do as he say and buy his old albums...