Album Review- Fat Joe - J.O.S.E. 2
So we all know that Fat Joe has had some sort of career resurgence (in his own mind) since he moved his operation to Miami and joined forces with the Southern movement. Unlike Rick Ross, Joe's beefing with 50 Cent hasn't led to anything positive in terms of attention and record sales to date. That aside, Joe will be known as one of the original NY gangster rappers and to that affect, he titles his latest album after his first album, for the second time.
Now Joe has decent beat selection most of the time, even though the constant use of Cool and Dre and The Runners over the past four or five years is starting to sound stale. The lead single which dropped months ago is "One" and features Akon on the hook. I really like this and thought it would have blown up major but for whatever reason it still remains under the radar.
Let me continue with the positives. "Joey Don't Do It" is right in Joe's zone, the beat bangs and it allows him to talk mad greasy as he is prone to do. the track also bangs on "Okay, Okay" even if the hook is only ok and the lyrics about fake killers and gangsters are as old as Joe actually is by the time you reach that point in the album. "Aloha" sounds like and is a really average song where Joe drops lazy lines like "me and my lady Madoff" .
That is probably the best of what I can say about the album. Now we know by now that Fat Joe isn't going to have but one topic, getting money being the gangster that he is. Truth is, if you can't at least sound like you believe it why should I?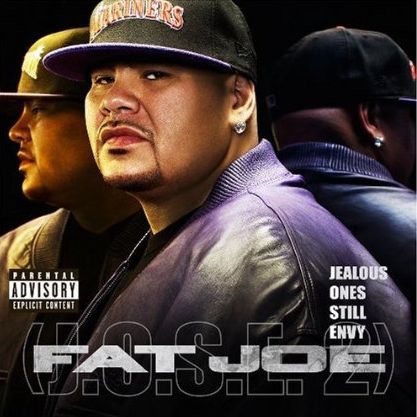 Having a laundry list of no-name features none of which who stand out doesn't help. "Cupcake" features Benisour, Rico Love drops in for hooks on "Aloha", and "Congratulations" which also feature Pleasure P on the first, and someone simply named "Ta" on the second. Ta also shows up on "Ice Cream" that also features Raekwon which is a welcome surprise. "Put you in the Game" with T-pain and Oz reeks of being some left over track from Three Rings.
The three biggest features on the album however are three of the most disappointing songs on the album. "Porno Star" features Lil Kim using auto tune which really sucked and is a lazy attempt to brag about sexual prowess by Joe. "Blackout" with Swizz Beats and Rob Cash is just lame, and "Winding on Me" with an annoying hook by the terrible Ron Browz is made even more annoying by the fact that Lil' Wayne also cannot leave the auto-tune alone. Nothing could save that song ever.
Honestly, this album is another tired collection of boring boasting about his realness and bank account by Joe. This has been the theme of the last three Fat Joe albums and each one has gotten progressively worse as he has gotten less and less relevant. 50 Cent is pretty much right with his skits about this record.
Now a similar album I recently reviewed was Royc da 5'9 and his was way better. Cormega also has an album that reaches further into the psyche of the drug dealer lifestyle so you have to wonder how much Joe really cares at this point in his career.

Rating: 2/5